Songkran is the biggest and most fun festival in Thailand. If you are planning to visit Bangkok for Songkran Festival in April, make sure to book your hotel near one of the best Songkran celebration spots in the city. Find the best hotels to stay in Bangkok for Songkran Holiday.
Bangkok Hotels for Songkran
Below you will find the top 4 recommended areas and hotels nearby to stay in Bangkok during Songkran Festival. You can choose the hotel depending on where you want to participate in the celebration of Songkran in Bangkok.
1. Silom Road
Silom is known as the business and financial district of Bangkok with a wide variety of good restaurants and interesting nightlife. When it comes to Songkran, Silom Road is probably the biggest and the best place for you to experience this Thai festival in Bangkok. The water battle area is on the road under the overpass between BTS Skytrain Sala Daeng Station and the next station called Chong Nonsi. You will be amazed by how many locals and tourists come to this 5 km long walking street to celebrate Songkran. Silom is a great choice if you are looking to have some serious fun as people will try to soak you by dumping buckets of water or shooting with water guns to make sure that you would be completely wet all day long. In the surroundings, there is a good choice of hotels from luxury well known chain hotels to the budget ones, so you will have no problem finding a place to stay during Songkran.
Where to stay near Silom Road
Best luxury hotels:
Mid-range hotels:
Budget hostels/guesthouses:
2. Khao San Road
Khao San Road in the north of the historic center, known as a backpacker's paradise, is the popular area for younger travelers and first-time tourists with its proximity to the main tourist attractions of the city, such as Wat Arun, Grand Palace, Wat Pho, and Chinatown. During Songkran, Bangkok's Khao San Road becomes the busiest street with a massive water fight and a great party atmosphere. It is impossible to walk down the street without getting wet. People are dancing around and the music is playing everywhere, stretching from the beginning of the street to the end of the street. It is the best area to stay in Bangkok for those who like to party and want to stay on a budget at the hotel, youth hostel or guesthouse.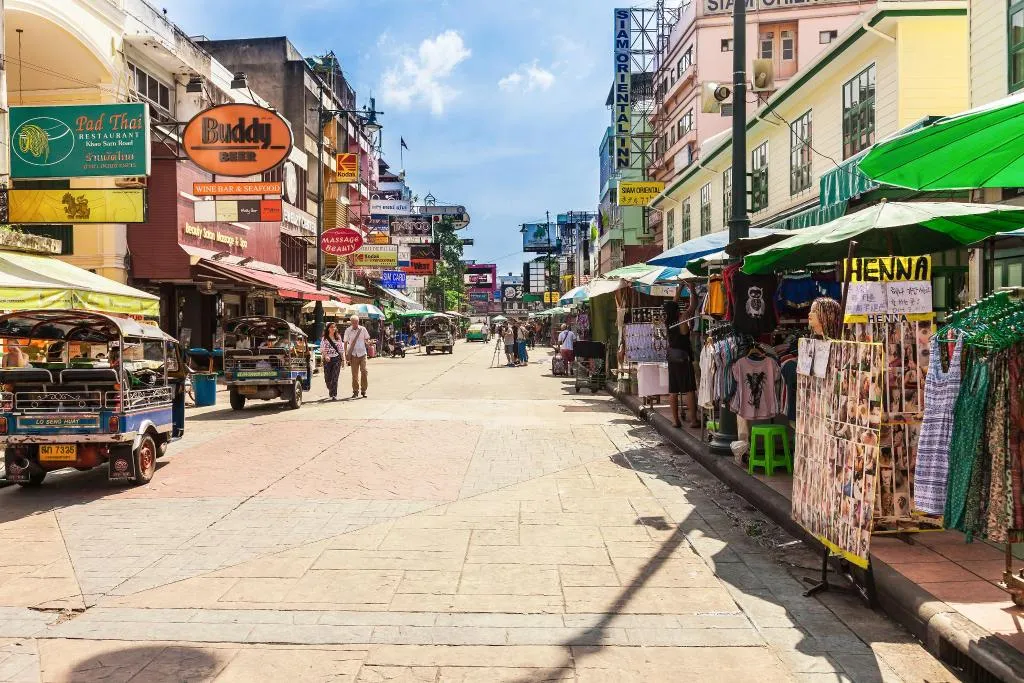 Where to stay near Khao San Road
Best luxury hotels:
Mid-range hotels:
Budget hostels/guesthouses:
3. Siam
Siam is the best-known shopping district in Bangkok with a large number of shopping malls such as Siam Square, MBK Center, Siam Paragon, and CentralWorld. Siam is a popular place for local teenagers to enjoy Songkran celebration in Bangkok. This area is also offering a cool and family friendly atmosphere. There are many entertainment activities, games and free concerts by famous Thai singers and DJs. The highlight of Songkran celebration here is a bubbly area called "The Foam Party Zone" at the CentralWorld where everyone can get frothy and have fun. This area is great if you are looking to stay in Bangkok during Songkran holiday with your family and children.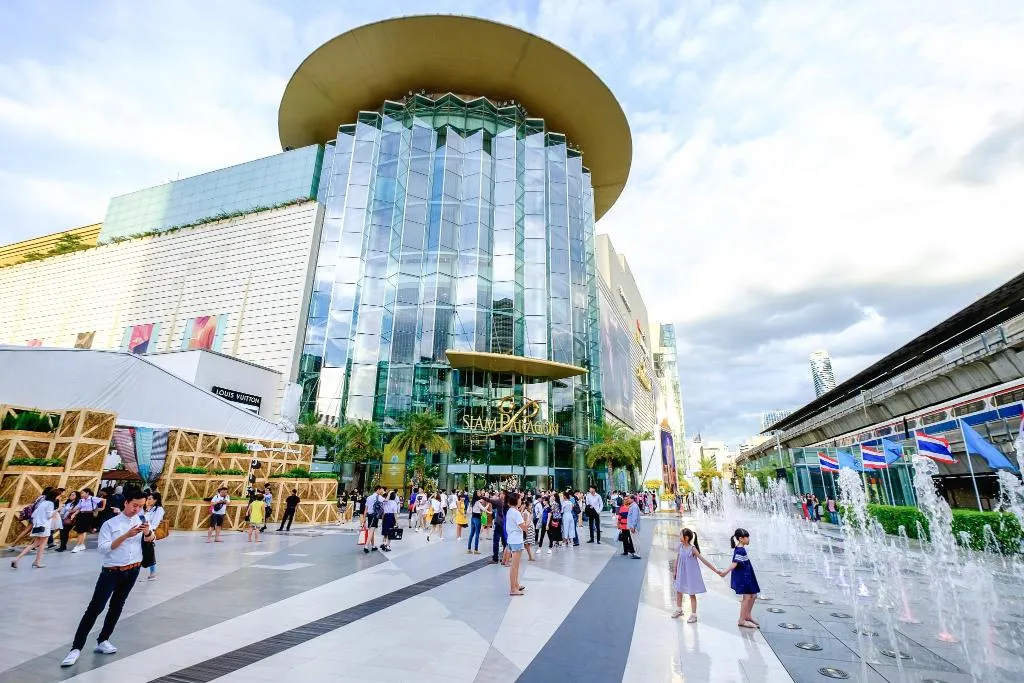 Where to stay near Siam
Best luxury hotels:
Mid-range hotels:
Budget hostels/guesthouses:
4. Bangkok Riverside (Chao Phraya River)
Bangkok Riverside is an ideal place to stay in Bangkok for those who want be near the main tourist attractions of the city. This area is not as bustling as Khao San Road, but offers a variety of unique hotels and resorts. Some of the hotels in the area offer relatively affordable prices. This area is ideal for those who want to surround themselves with the beauty of the old Bangkok and enjoy Songkran in a traditional Thai way.
During Songkran, you can participate in Water Festival 2023 that will take place at the historical locations along the Chao Phaya River, including Wat Phra Chetuphon, Wat Arun, Wat Rakhang, Wat Kalayanamit, Wat Prayurawongsawat, Guan Yu Shrine (Khlong San), Yodpiman River Walk, The Lhong 1919 Riverside, ICONSIAM, and Asiatique The Riverfront. There will be a free shuttle boat service operating between 11 piers along Chao Phraya River.
For more information about the venues and activities of Water Festival in Bangkok, check Water Festival 2023.
Where to stay at Chao Phraya Riverside
Best luxury hotels:
Mid-range hotels:
Budget hostels/guesthouses:
Tips for the best Songkran experience
Make sure to carry your essentials like wallet and smartphone in waterproof bags to avoid any damage or leave all valuables at your hotel.
Try to wear easy-to-dry clothes.
Locals often wear brightly colored, flowery shirts, the so called "Songkran shirts" to celebrate. You will find many Songkran shirts available for cheap price.
Watch out for pickpockets as the Songkran water fight zones are definitely crowded.
For more information about Songkran celebration check our Guide to Songkran Festival Celebration
If you will be visiting another part of Thailand during Songkran, check: Where to Celebrate Songkran in Thailand
Find out where Bangkok's best Songkran Festival celebration spots are: Where to Celebrate Songkran in Bangkok