Planning holidays in Thailand and looking for a hotel in less popular area of Krabi province? Find the list of the most popular Krabi hotels in nearby islands and secluded beaches, including places such as Klong Muang Beach, Tab Kaek Beach, Ao Nam Mao, Ko Jum, etc.
Where to book Krabi hotels?
The most convenient way to book Krabi hotels is by using a reliable online travel agent such as Booking.com or Agoda.com.
---
Note! While most of Krabi hotels are offering airport pick-up service, booking a separate Airport transfer to Krabi in most cases is significantly cheaper than transfer arranged by the hotel
---
Hotels in Tub Kaek Beach
1. Phulay Bay a Ritz Carlton Reserve
The 5-star Phulay Bay Ritz-Carlton Reserve is located along the shores of Andaman Sea in Krabi. Boasting 24-hour butler services, it also has an infinity pool, spa and 5 restaurants. Luxurious and set within tropical gardens, rooms at Phulay Bay Ritz-Carlton feature beautiful Thai wooden décor and stylish bathrooms. Ocean views and fresh evening breeze can be enjoyed from the private veranda. ESPA at Phulay Bay features private treatment rooms, a spa pool and fresh fruit juice at RAW Spa Café. Guests may exercise at the fitness centre, or take part in a unique cultural experience with Thai cooking and batik painting lessons.
2. Amari Vogue Krabi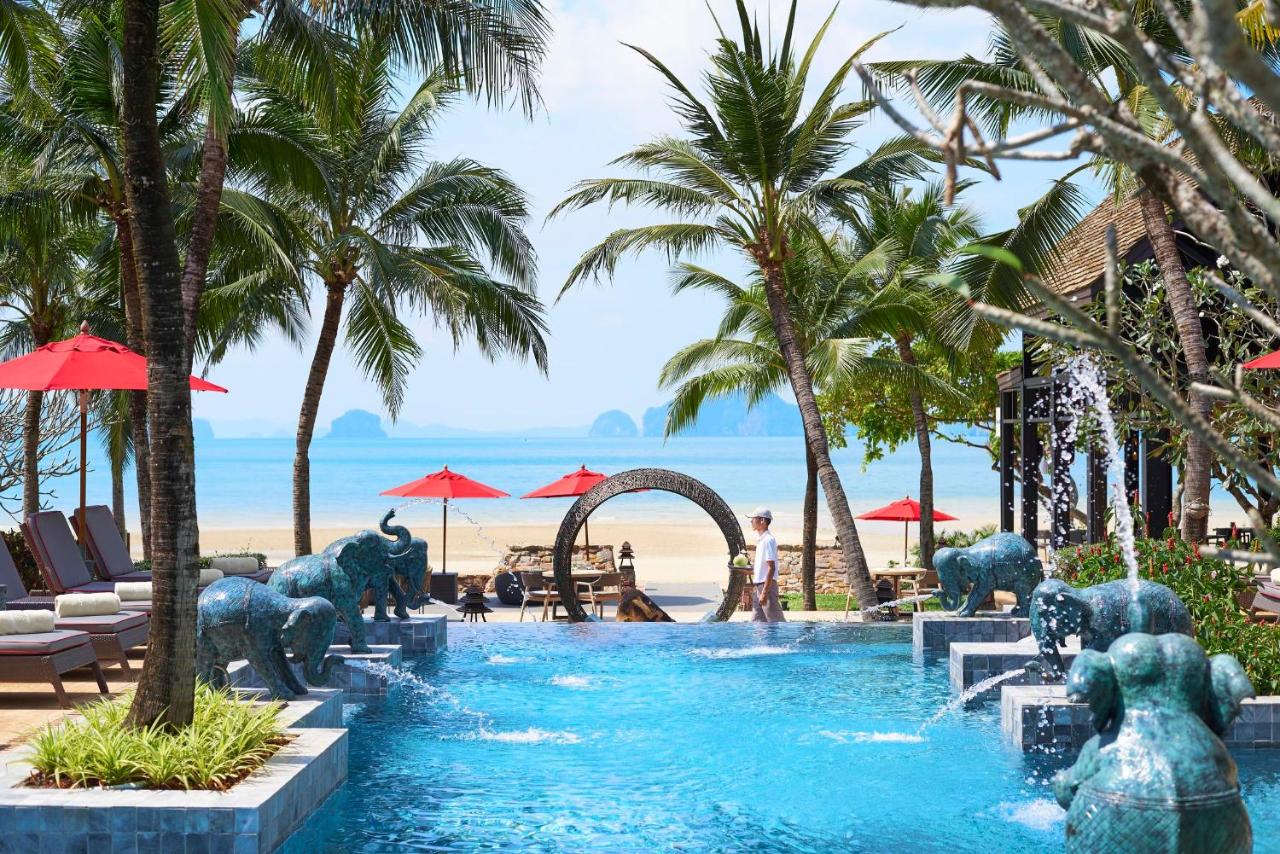 You'll find Amari Vogue Krabi in a tranquil ocean-facing setting at the northern end of Tubkaek Beach. Spaces at the resort have been thoughtfully designed for that comforting home-from-home experience. They've added touches to the décor to showcase modern Thai craftsmanship at every turn – a contemporary re-imagining of the traditional Thai home.
3. Banyan Tree Krabi
Banyan Tree Krabi is an idyllic new beachfront resort, a heavenly oasis of peace and comfort. Feel the warm embrace of Banyan Tree hospitality, from the world-class spa and stylish restaurants to the beach bar with its spectacular vistas and gentle sea breeze. Each of Banyan Tree Krabi's 72 luxurious suites and villas has its own private pool, offering privacy and intimacy in a tropical rainforest setting. Whether as a romantic hideaway for couples or as a fun-filled family vacation, you will bathe in nature among fragrant gardens, graceful water features, and stunning views of the mesmerising Andaman Sea. Wake up to a glorious breakfast on your private balcony or start the day with a swim in your secluded pool as you wallow among the sounds of birds and the aroma of the sea in this natural paradise. Spend the day sunbathing in tranquility or unwind with a treatment at the Banyan Tree Spa. Savour the finest in mouthwatering cuisine, and raise your glass to a slow soothing sunset over the sea horizon.
4. The Tubkaak Krabi Boutique Resort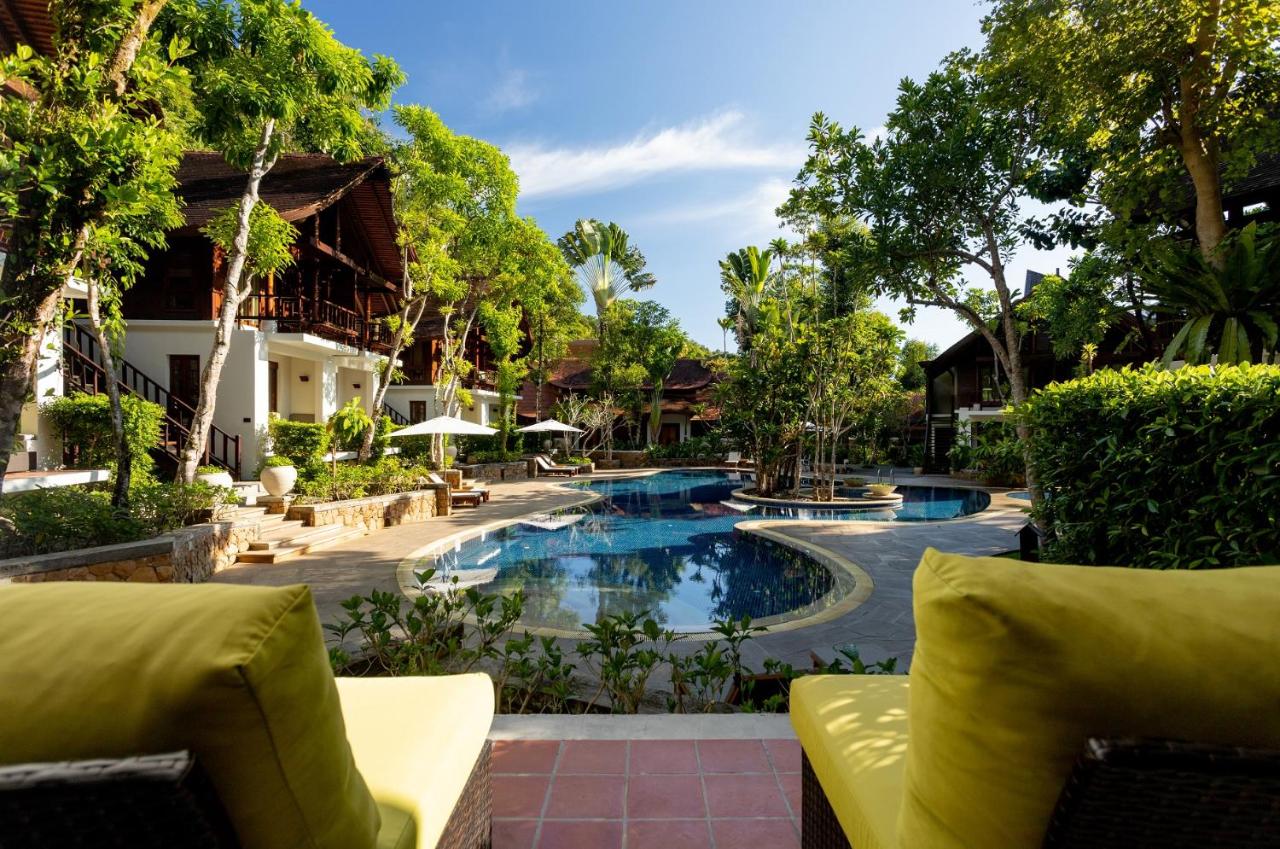 The secluded Tubkaak Resort is a private sanctuary to relax, romance and feel at one with nature. This Krabi boutique resort overlooks a gorgeous white sand beach and a spectacular 13-island archipelago in the Andaman Sea. The distant islands provide great shelter from the monsoon winds creating a safe beach to swim with calm waters all year round. The cosy rooms and villas feel like home, featuring signature outdoor sunken bathtubs for ultimate pampering. Indulge your senses at the unique L'escape Spa and dine on exquisite cuisine at Di Mare and The Arundina on the beachfront, where dishes are lovingly prepared using the freshly picked ingredients from our own organic garden. Whether staying to celebrate romance or to experience the beauty of nature, this special Krabi beach resort will stay with you long after you leave.
5. Tup Kaek Sunset Beach Resort
Surrounding by exotic landscape and awash with natural splendor of Tupkaek Beach, Krabi province, Tup Kaek Sunset Beach Resort is nestled discreetly in next to the pristine white sand of 1 km Tupkaek Beach, in the vast tropical gardens, which is the perfect retreat your bodies and mind. This is the ideal setting at Tup Kaek Sunset Beach Resort, tourists can awake to the resort own private beach, spend days enjoying eco-water sports, open-air mountain stream bathing, cooling off in the swimmer's island haven, or simply relaxing by the water edge.
---
Hotels in Klong Muang Beach
1. Sofitel Krabi Phokeethra Golf & Spa Resort
Just one minute's walk away from the golden beach, and designed to a style evoking colonial elegance Sofitel Krabi Phokeethra Golf & Spa Resort has a magnificent vista of the Andaman Sea and the outlying islands. Recognized as one of Krabi's best hotels, the Sofitel enjoys a prime setting on Klong Muang Beach, near to Ao Nang, and combines Western luxury with a warm and gentle Thai ambiance.
2. Dusit Thani Krabi Beach Resort
Set in the exotic landscape of Krabi province, Dusit Thani Krabi Beach Resort offers 240 guest rooms and suites, two inviting beachfront pools, a variety of restaurants and a spa set in the vast tropical gardens. This Klong Muang Beach resort is the perfect retreat for families and those on business travel, just a one-hour flight away from Bangkok.
3. Nakamanda Resort & Spa
A tranquil paradise awaits guests at Nakamanda Resort & Spa, located on a beautiful private cove in the unspoilt Klong Muang area of Krabi, Thailand's most stunning southern province and is only 40 minutes drive from Krabi International Airport and even closer to the attractions of Krabi Town and Ao Nang Beach. The Krabi hotel's rocky coastline faces a tiny forested island with a backdrop of captivating mountains emerging from the deep blue Andaman Sea.
4. The Elements Krabi Resort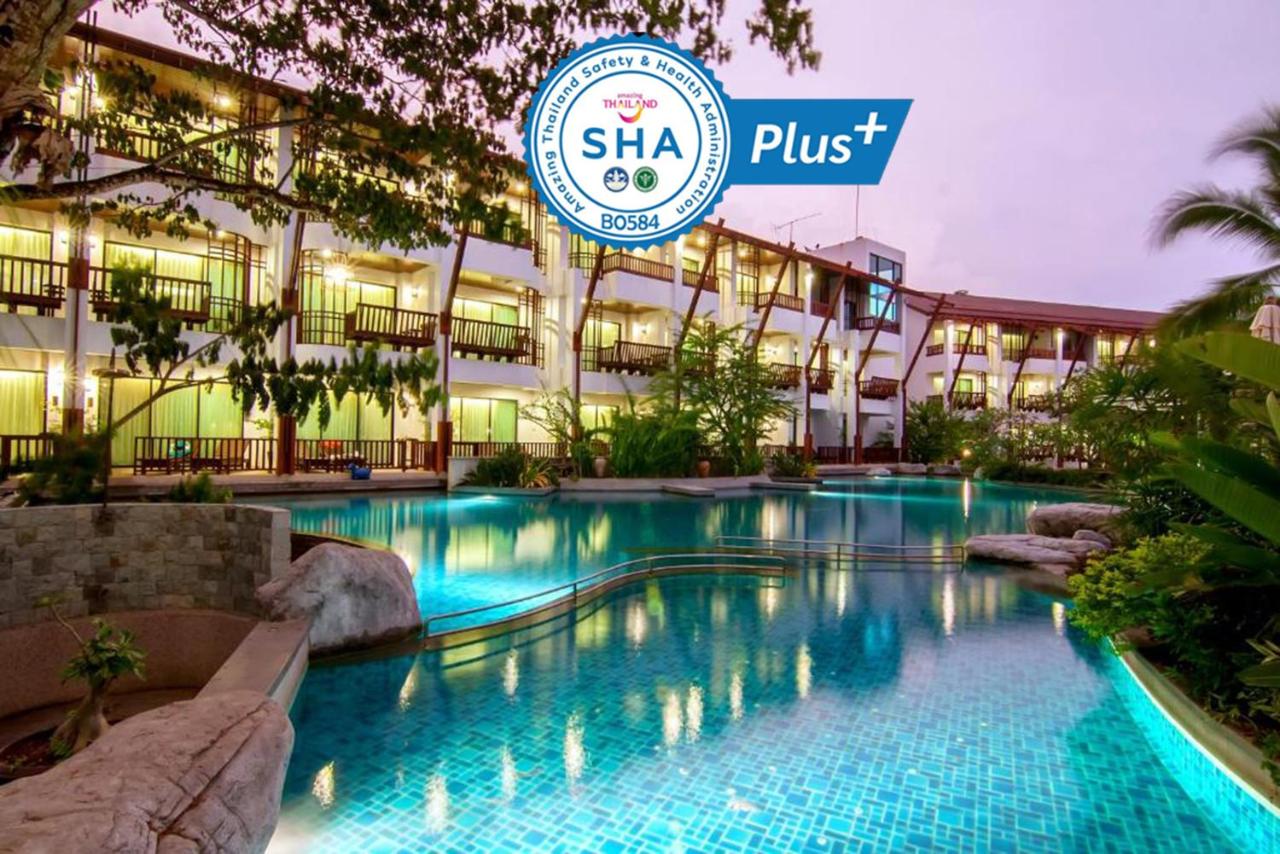 The Elements Krabi Resort, set on the beautiful Klong Muang beach, epitomizes the spellbinding enchantment of Krabi itself. The atmosphere is serene, the surroundings magical, making the resort a relaxing, comfortable getaway at any time. A backdrop of rare tropical flowers and lush foliage gives the resort a semblance of a peaceful haven perfect for any kind of holiday. Within the resort are 65 fully equipped guestrooms, are well-decorated and designed with the balance of the elements as a theme. The Elements Krabi Resort cast a spell of serene enchantment the elements of nature-earth, water, wind, and fire have been woven into the resort's architectural design yo let every guest experience the pleasures of distinctive.
5. The Krabi Sands Resort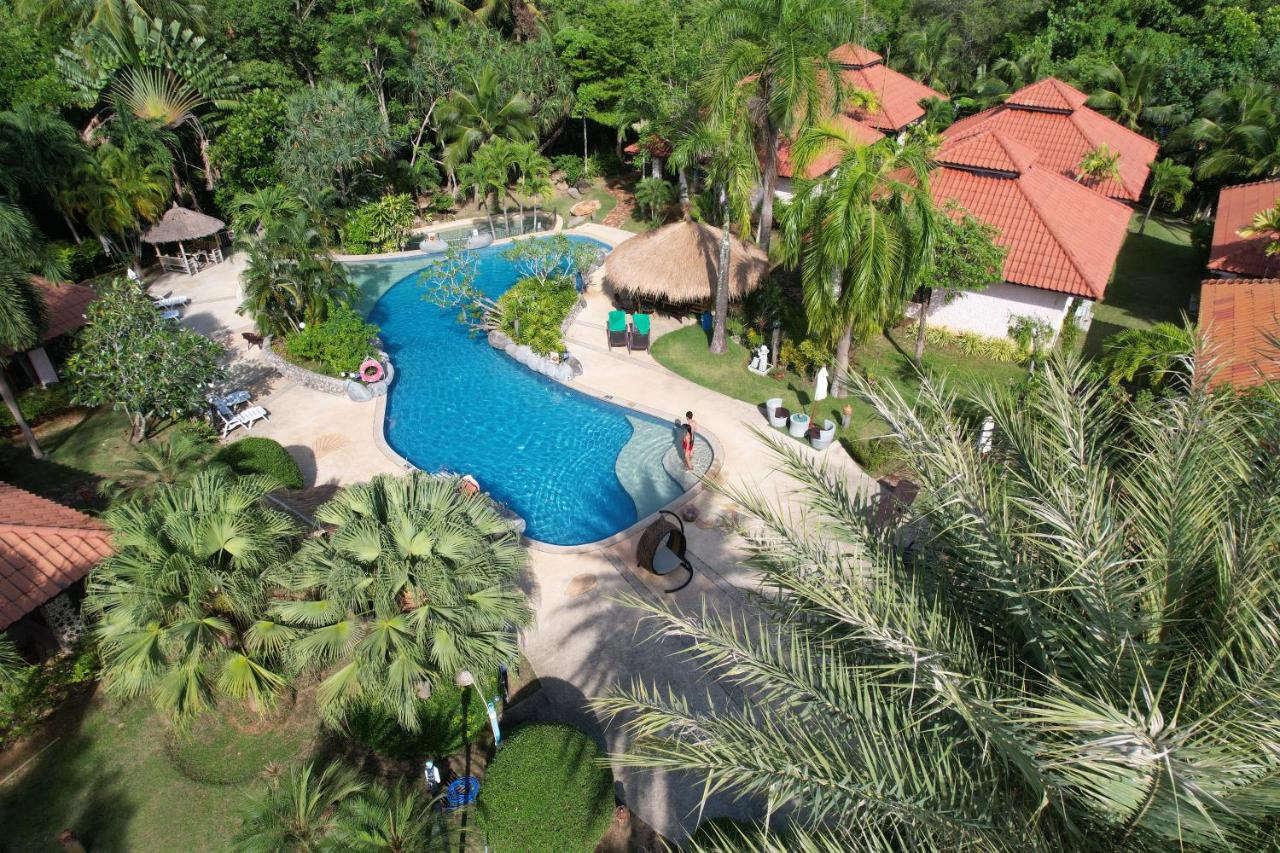 Krabi Sands Resort is located along Khlong Muang Beach, a 15-minute drive to the entertainment area at Ao Nang Beach. The resort offers an outdoor pool, free Wi-Fi and a restaurant. The air-conditioned guestrooms come with wooden furnishings and are equipped with a satellite TV, tea/coffee maker and a fridge. Private balconies and bathroom amenities are provided. The large outdoor pool is chlorine-free and treated with saltwater to cater to guests with sensitive skin.
6. Sino Siam Hotel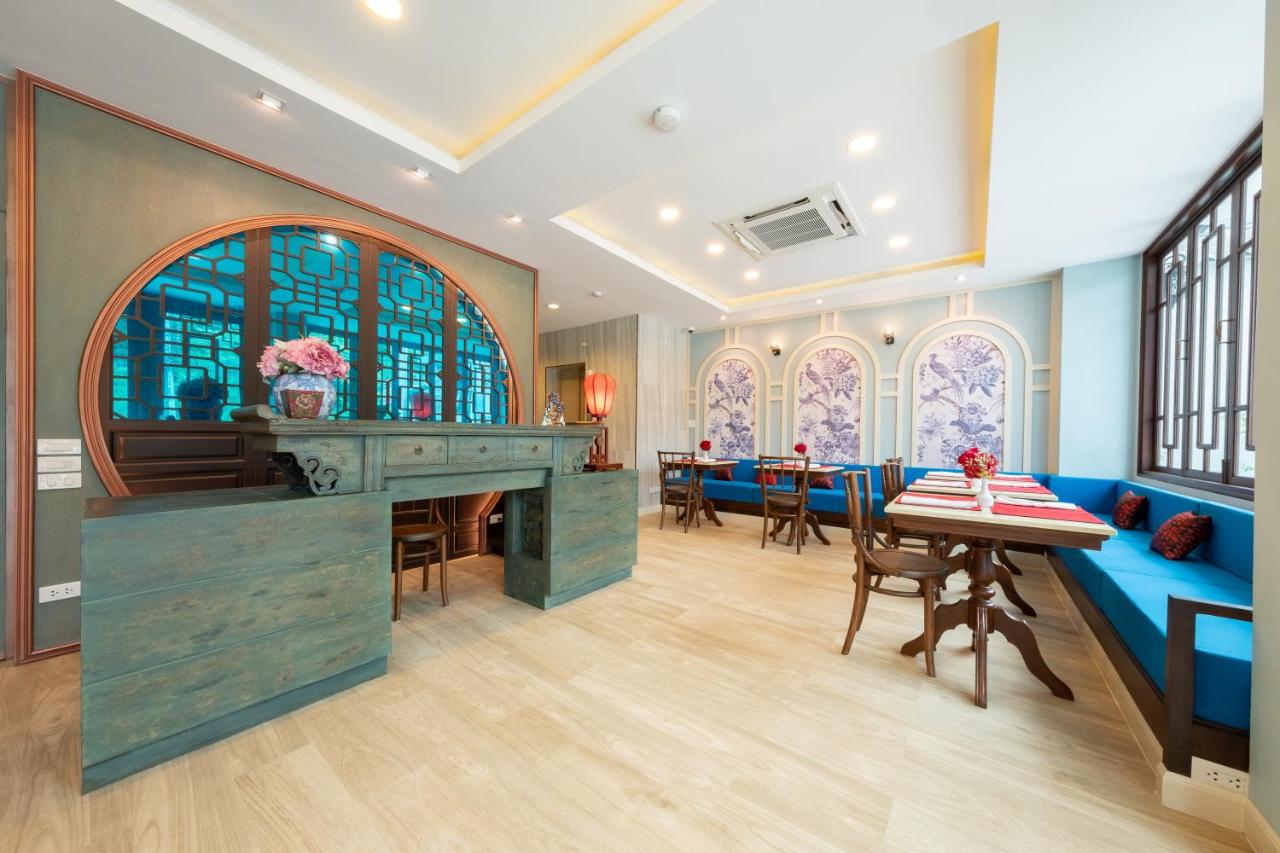 Sino Siam Hotel was built in year 2020. It was decorated in sino-portuguese style combined with contemporary style located in Klong Muang area. Our hotel is a cozy hotel where you can relax and enjoy your stay in Krabi.
---
Hotels in Ao Nam Mao
1. The ShellSea Krabi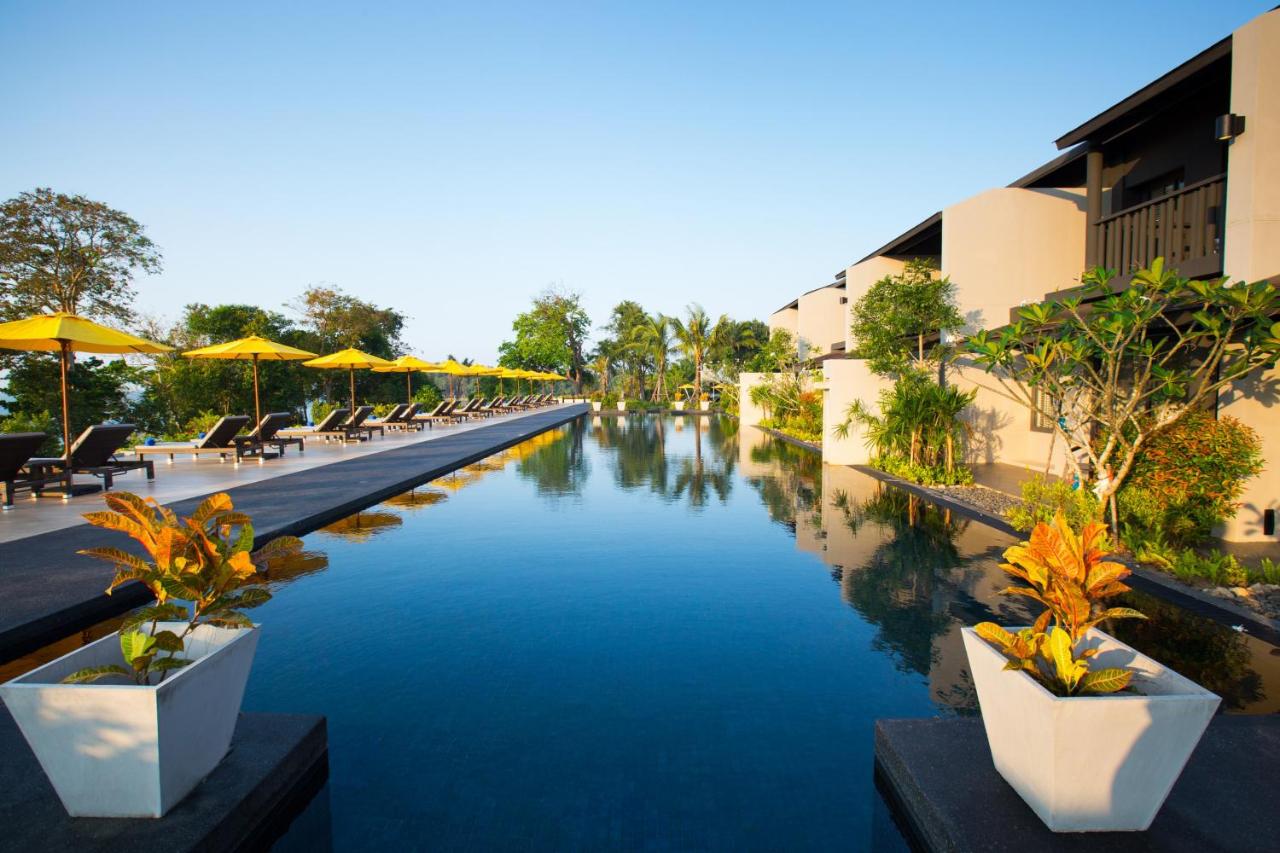 Escape to the luxury and seclusion sanctuary of The Shellsea Krabi for beach vacation, our Krabi's luxury beach resort's village life and private setting on Fossil Shell Beach in Krabi discloses itself in the unforgettable experience. An abundance of activities; cycling or kayaking are available for you. You can stay active during vacation either simply spend a healthy day in swimming pool or in the fitness centre. Meanwhile, the delightful days at Aonang Beach can be enjoyed, just 10 mins away from the resort by car.
2. Venice Krabi Villa Resort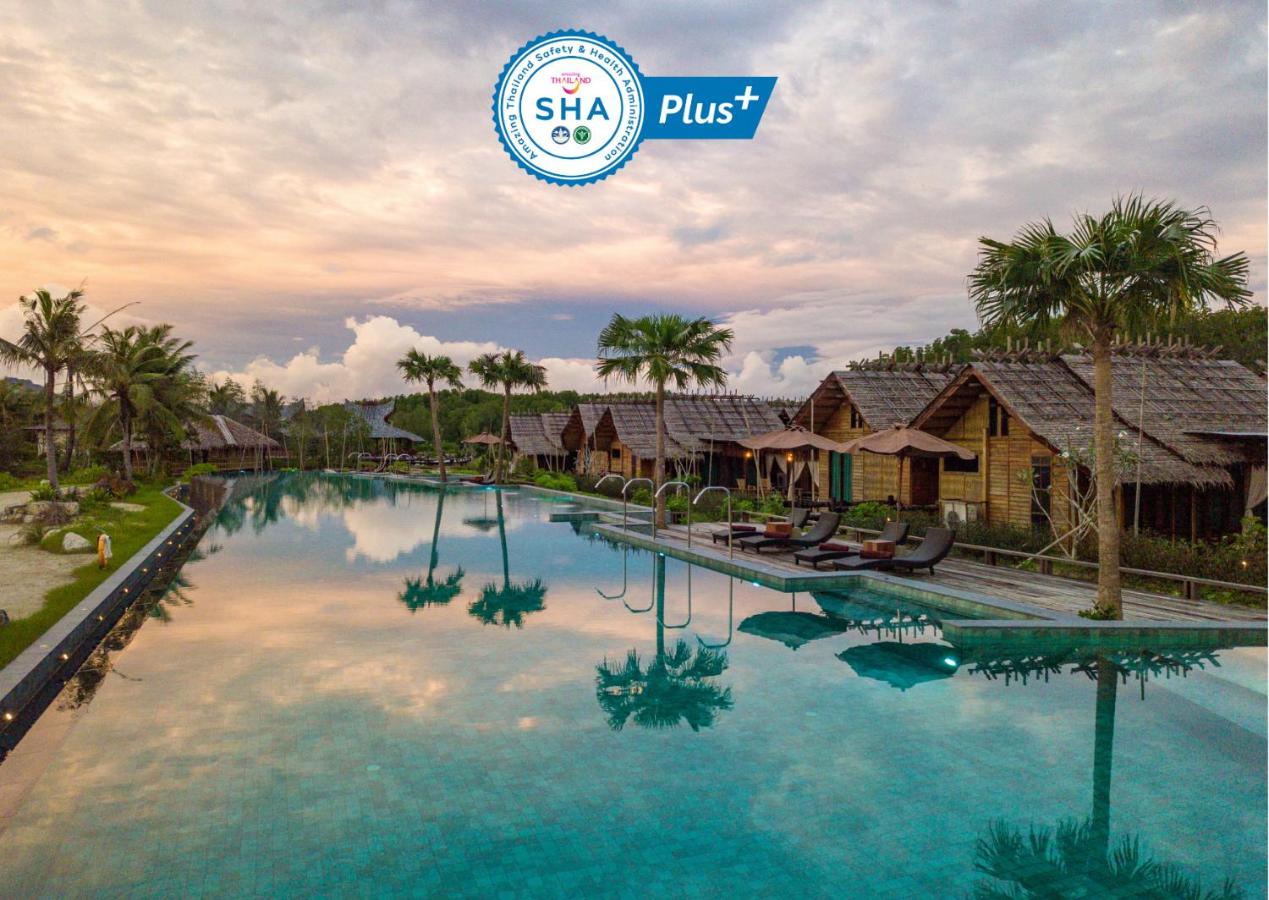 Romance and unwind with an authentic back-to-nature experience without compromising on luxury at Venice Krabi Villa Resort. This unique Krabi eco resort in Ao Nam Mao is a village of overwater lagoon villas inspired by the Thai sea gypsy way of life, surrounded by lush mangrove forests, lagoons and rice paddies.
3. Na Sook Wellness
Offering a year-round outdoor pool and terrace, Na Sook Resort is situated 350 m from Ao Nam Mao in the Krabi Province. It is located 6 km from Ao Nang Beach. Every room includes a flat-screen TV with satellite channels. You will find a kettle in the room.
---
Hotels in Koh Jum
1. Koh Jum Beach Villas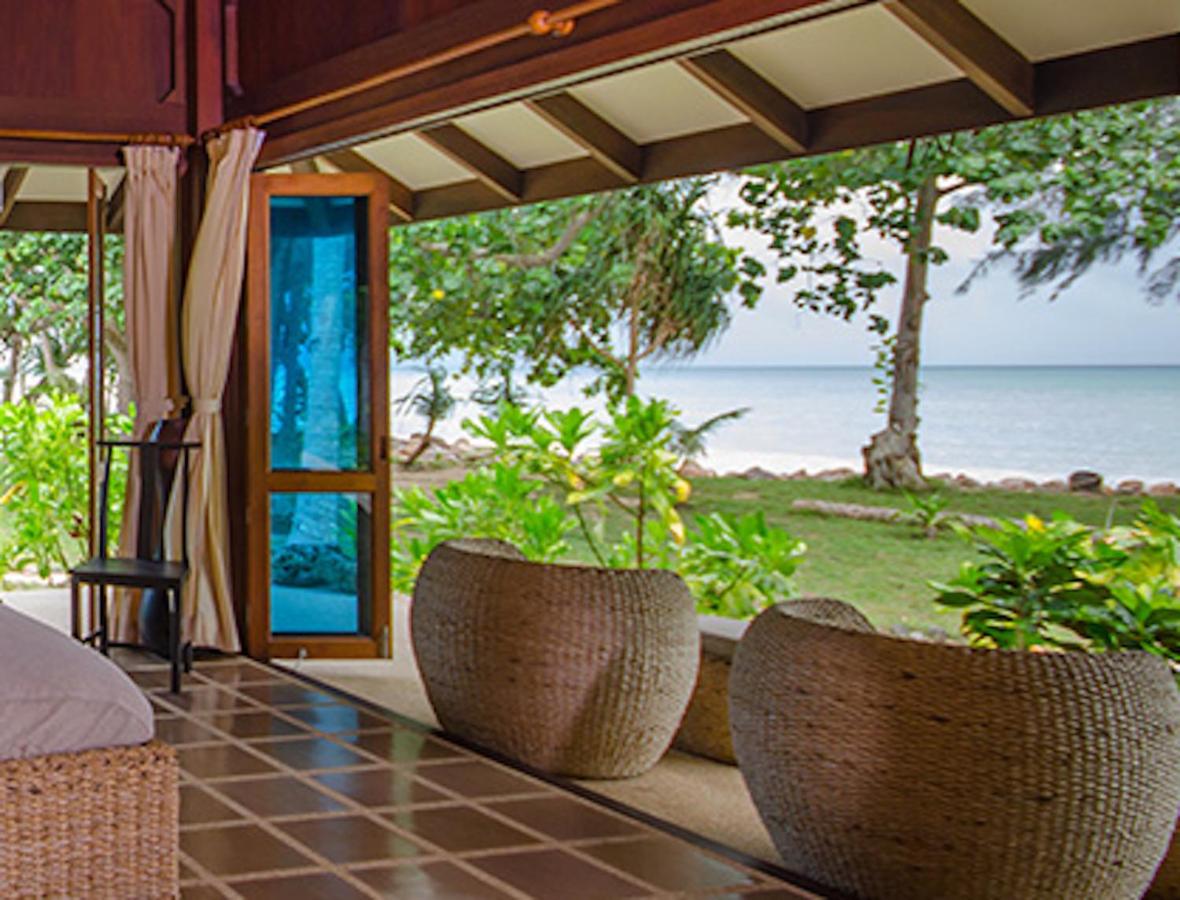 Located on the island in Ko Jum, Koh Jum Beach Villas offers spacious villas with free WiFi. This beachfront property features an outdoor pool, laundry and shuttle service. The property is located approximately 1 hour from Krabi Airport and is only accessible by boat. Private transfers via car and boat transfer can be arranged for an extra charge.
---
Hotels in Klang Island
1. Islanda Hideaway Resort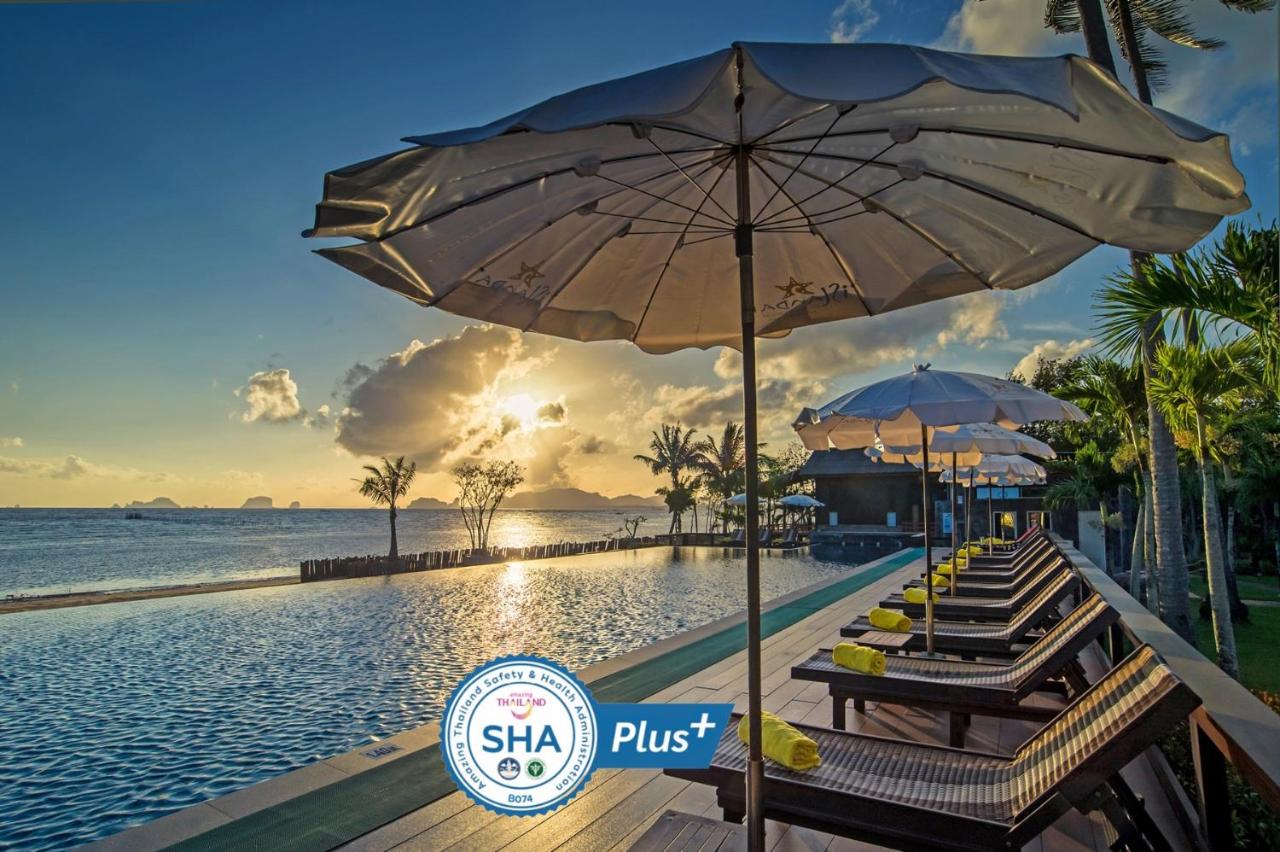 Islanda Hideaway Resort offers beachfront accommodations on Klang Island, a 10-minute boat ride from Chaofa Pier. Islanda Hideaway Resort was created from a vision of a peaceful hideaway where relaxation can be truly felt. This tranquil holiday destination has been carefully woven into the fabric of the surrounding natural environment of KohKlang and gives great importance to its eco-concept and local community.
---
Hotels in Khlong Thom
1. Wareerak Hot Spring & Wellness
Wareerak Hot Spring and Wellness is a place where you can immerse your soul in the peaceful sanctuary of tropical paradise. The experience that honours the healing traditions of hydrotherapy, Thai wellness, forest therapy and holistic wellness philosophy. Our hot springs provide pure natural medicinal water which has various therapeutic effects through our hydrotherapy programs designed to promote health and wellbeing.
---
Hotels in Had Yao Beach
1. Purin Resort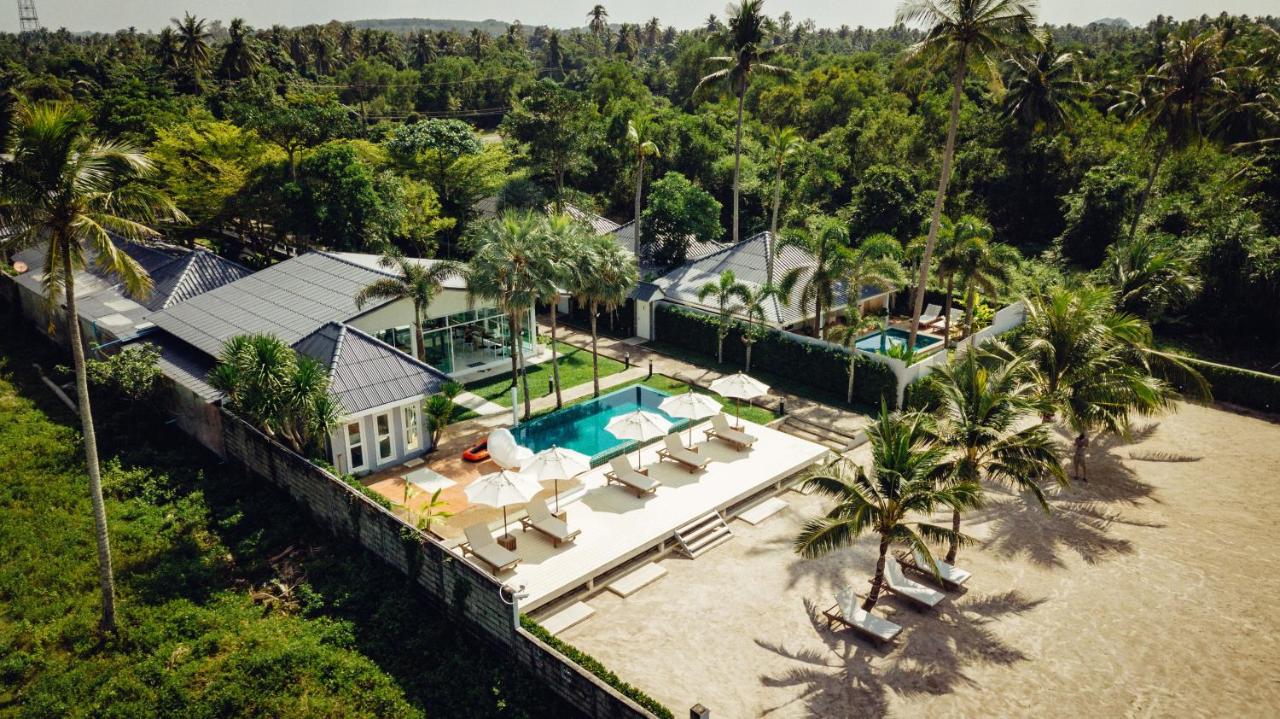 Purin Resort & Restaurant located in Had Yao Beach. A boutique resort with great personality and incredible restaurant, a serene and seemingly endless beach.
---
Other Krabi Hotels
If you are interested in other areas as well, find top hotels in other popular areas of Krabi:
For the list of Best Krabi Hotels including top hotels in Krabi check here ⬇️