Don Mueang is one of the best areas for an overnight stopover in Bangkok. In this detailed guide to Don Mueang area you will find the essential information about the area around Don Mueang Airport with the most popular attractions and things to do near Don Mueang Airport, transportation, and selection of hotels according to your budget.
If you are looking for accommodation in Bangkok but still have doubts about what area is the best for an overnight stay and fast transfer to Don Mueang Airport, you can consider staying in Don Mueang area.
Don Mueang Airport (DMK) is the oldest international airport in Thailand, located approximately 20 kilometers away from the center of Bangkok. The area around the airport is suitable for those who are waiting for a connecting flight or have a flight departing from Don Mueang Airport early in the morning.
Staying in Don Mueang area is convenient for everyone who travel inbound or outbound via the second airport of Bangkok. There are many reasonably priced hotels located within a walking distance to Don Mueang Airport and most of them offer shuttle service between the airport and hotel, perfect if you are catching a flight the next day. Don Mueang area is also easily accessible as it has the SRT Red Line train and several airport buses connecting the airport with the city center.
Things to Do in Don Mueang Area
Royal Thai Air Force Museum: The museum provides and collects numerous types of both active aircraft and decommissioned aircraft since the early period of Thai aviation to the present day as well as the valuable historical documents of the National Aviation and Royal Thai Air Force (RTAF). The museum is located on the Phahonyothin Road, just south of Wing 6 of the domestic terminal of the Don Mueang Airport.
Wat Don Mueang: Buddhist temple dating from the late 1800s is located in a walking distance from Don Mueang Airport.
MOCA Bangkok: Museum of Contemporary Art with constantly rotating art exhibition suitable for art lovers, situated on Vibhavadi Rangsit Road near Don Mueang Airport.
Chatuchak Weekend Market: A must-visit outdoor market in Bangkok with all sorts of products available in every category from fragrances, soaps, souvenirs, home decor, clothes, bags, footwear, books, to plants. It is easy to get there by an airport bus from Don Mueang Airport.
Chatuchak Park: A public park suitable for jogging, cycling, sitting and relaxing, located next to Chatuchak Market.
New Lumpinee Boxing Stadium: The best place to watch Muay Thai boxing match with all necessary facilities for boxers and audiences, as well as the capacity of 5,000 seats, located near Don Mueang Airport.
Impact Muang Thong Thani: Asia's largest and most modern exhibition and convention center with over 140,000 square meters of space and 5 main buildings to organize any kind of events.
Future Park Rangsit: The largest department store in Rangsit area with everything you need to find from Central department store, Robinson department store, top supermarket, Watson, B2S, SuperSports, PowerBuy, Fitness First gym, Game Center, The Ring Ice Skating to Major Cineplex with 10 theaters, located not far from Don Mueang Airport.
Central Ladprao: Large department store that has everything to choose from, located at Lat Phrao Intersection area which is now easier to go to with MRT metro and BTS skytrain stations nearby.
Transportation in Don Mueang Area
Traveling to and from Don Mueang Airport by DMK Airport Bus is very convenient. Buses run on several routes and pass Bangkok areas, where the main tourist attractions are located. The bus ticket price is only 30-50 THB, depending on the route.
SRT Red Line commuter train is a useful choice as it's one of the fastest ways for getting into the city from Don Mueang area. SRT Red Line connects the airport with MRT Metro at Bang Sue Grand Station.
Taking Bangkok taxi is another convenient option for traveling around if you are staying in Don Mueang area. Taxi to/from the airport to accommodation in the area should cost less than 100 THB plus an additional 50 THB airport fee when boarding taxi at the airport. 
A Private Transfer lets you experience the ultimate comfort, convenience, and luxury on the transfer from Don Mueang Airport to Bangkok city. All-inclusive price includes a luxurious ride with a range of amenities to ensure you have a relaxing and enjoyable ride.
How to get from Don Mueang to Suvarnabhumi Airport
By Shuttle Bus: The service of free shuttle bus between Bangkok airports can be used if you will be landing at Don Mueang Airport (DMK) and will have a domestic or international flight from Suvarnabhumi Airport (BKK) on the same or next day. The trip from DMK to BKK can take anywhere from 50 minutes to 2 hours, depending on traffic conditions.
By Public Bus: Bangkok buses No. 554 and No. 555 pass Don Mueang Airport and go all the way from DMK to BKK airport and will drop you at Suvarnabhumi Bus Terminal.
By Train: SRT Red Line commuter train connects you to the MRT Metro at Krung Thep Aphiwat station (Bang Sue Grand station). From there, you can travel to MRT Phetchaburi station, which is connected to Airport Rail Link Makkasan station with trains to Suvarnabhumi Airport.
By Taxi: Bangkok taxi ride from Don Mueang Airport to Suvarnabhumi Airport takes approximately 1 hour. The price should be approximately 400-500 THB plus an additional 50 THB airport fee.
Detailed information about different transportation options for traveling from Don Mueang so Suvarnabhumi Airport here: DMK to BKK.
Places to Stay in Don Mueang Area
Some of the best hotels in Don Mueang area are listed below.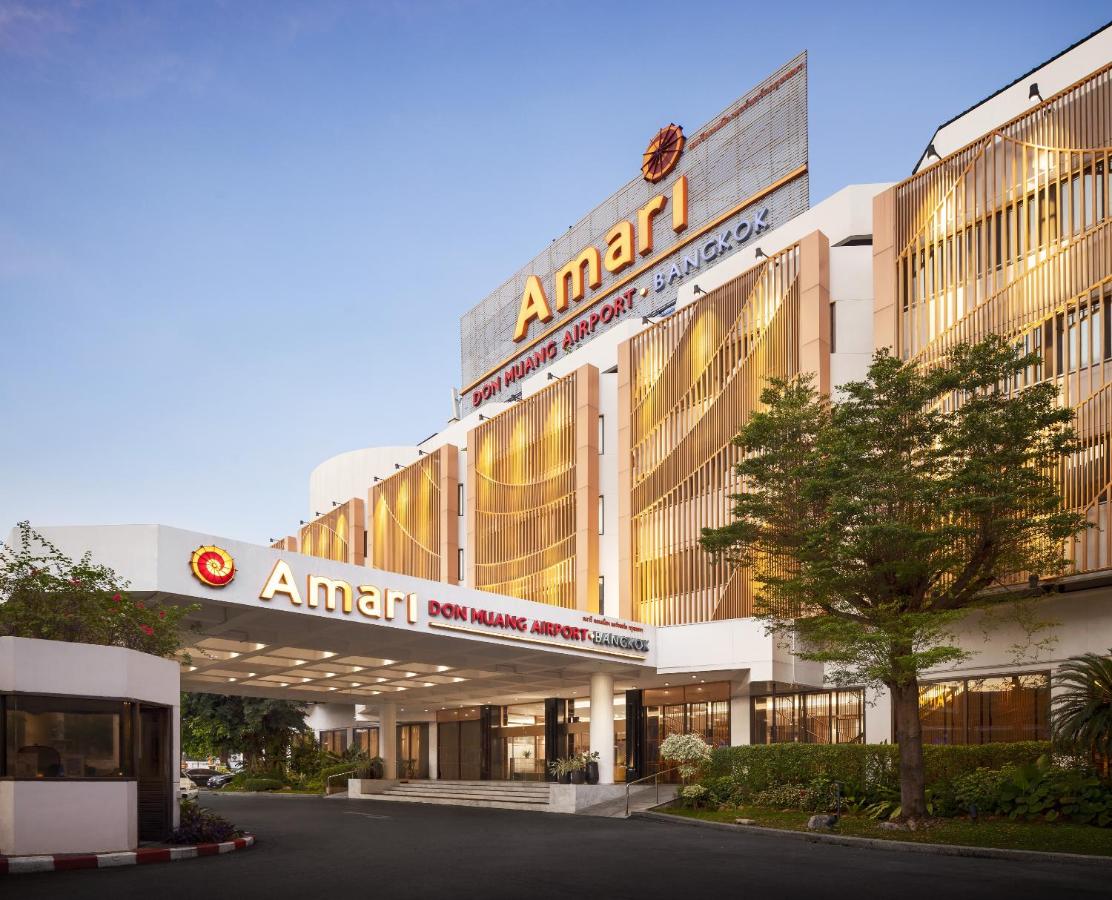 Budget-Friendly Hotels in Don Mueang
D-hub Hostel: Nice hostel with air-conditioned minimal rooms and free WiFi throughout the property on the main street Songprapa Road, 500 meters from DMK airport.
Donmueang Place Hotel: Transit hotel at a great price with comfortable rooms close to Don Mueng International Airport (500 meters to Terminal 1).
Don Mueang Airport Modern Bangkok: Affordable 3-star hotel with basic rooms and amenities, located a 15-minute walk from Don Mueang International Airport.
Mid-Range Hotels in Don Mueang
Best Western Nada Don Mueang Airport Hotel: A modern midscale hotel featuring 232 Superior Rooms and 3 Suites, all fully equipped with elegant décor, home furnishings and contemporary comforts including complimentary Wi-Fi, TVs and bright, refreshing bathrooms, perfectly located just 15 minutes from Bangkok's Don Mueang International Airport.
Mida Hotel Don Mueang Airport: Simple elegant 4-star hotel with fitness center, swimming pool, and Amazon cafe, nestled just moments away from Don Mueang International Airport, suitable for people traveling by plane.
12 The Residence Hotel & Apartment: A hotel and serviced apartment offering 24-hour attentive service with essential facilities such as a co-working space, fitness center, a Japanese restaurant Junichi, and Cafe & Bar, just opposite Don Mueang Airport.
Luxury Hotels in Don Mueang
Amari Don Muang Airport Bangkok: 4-star hotel with spacious rooms and suites offers a home-from-home warmth with beautiful touches to the décor that are uniquely Thai in inspiration, while selection of casual and fine dining restaurants lets you enjoy the local and international cuisine. The hotel is connected by an overhead pass to Don Mueang International Airport.
Centara Grand at Central Plaza Ladprao Bangkok: Five-star luxury Bangkok city hotel with modern rooms, shopping & convention center and rooftop bar, located in the heart of Ladprao's commercial district, near Chatuchak Weekend Market and a 15-minute drive from Don Mueang Airport.
Miracle Grand Convention Hotel: Five-star conference hotel with 270 convenient rooms of 8 different types perfect for business travelers and tourists. The hotel provides a wide range of cuisines including Thai, Chinese, Japanese, and international recipes created by skillful chefs as well as various facilities such as gym, swimming pool and spa. Shuttle bus to Don Mueang International Airport is available.
Popular Travel Services at Don Mueang Airport
Tourist SIM Card for Thailand: Get guaranteed, reliable 4G/5G data to connect with your loved ones at any time. Simply pick up the SIM card at Don Mueang Airport.
Luggage Delivery Service: Enjoy smooth, safe, efficient luggage delivery and storage service with AIRPORTELs that let you explore Bangkok right away by having your luggage delivered to any kind of accommodation within the city.
Private City Transfer to Pattaya: Sit back, relax and enjoy a peaceful transfer service as you make your way to Pattaya from Don Mueang Airport (DMK). You can choose from flexible vehicle options that can accommodate 3 to 8 people plus luggage.
Other Bangkok Areas
Planning a trip to Thailand and wondering where to stay in Bangkok? To make your visit in the capital city easier, find the guide to the best Bangkok areas and choose accommodation according to your preferences and trip plan.
Detailed guides to other popular Bangkok areas:
Bangkok Old Town - Rattanakosin